Pod…what? For those that aren't familiar with the term, a podcast is an audio broadcast that is available for listening online at any time. There is essentially a podcast for nearly every genre or interest: sports, politics, children's stories, finance, fashion, entertainment and, of course, interior design.
Just like reading blogs, listening to podcasts are a great way to stay on top of the newest design trends, brush up on your design skills or broaden your design horizons.
We've gathered a list of our five favorite design podcasts that we believe deserve your attention. You can expect to hear interviews with both up and coming designers and experts in the field, learn tips and tricks, get insights on upcoming projects, receive great product recommendations and more. All of these podcasts are available on iTunes, and can also be accessed by clicking the links below.
SLHL Tip: The best part about podcasts is they allow you to multi-task — listen while you are cooking, at the gym or on your commute! All five are family friendly, so no need to worry about censorship.
SLHL Bonus Tip: Many of these podcasts are sponsored by national brands that offer promotions just for listening. Receive discount codes on everything from custom furniture, food delivery services, wholesale fabric, cleaning supplies and everything in between. Talk about a win/win!
DIY duo John + Sherry Petersik of Young House Love have done it again. First on our list, their podcast, cleverly titled Young House Love Has a Podcast, is a perfect listen for anyone just starting to become interested in interior design. For those that aren't familiar with Young House Love, the blog has been around for more than ten years, covering subjects from DIY to home renovation to interior design. The podcast provides a deeper look into John + Sherry's entertaining lives, and is guaranteed to leave you in stitches, while simultaneously making many mental interior design notes.
Episode length: 30 minutes
Release: Every Monday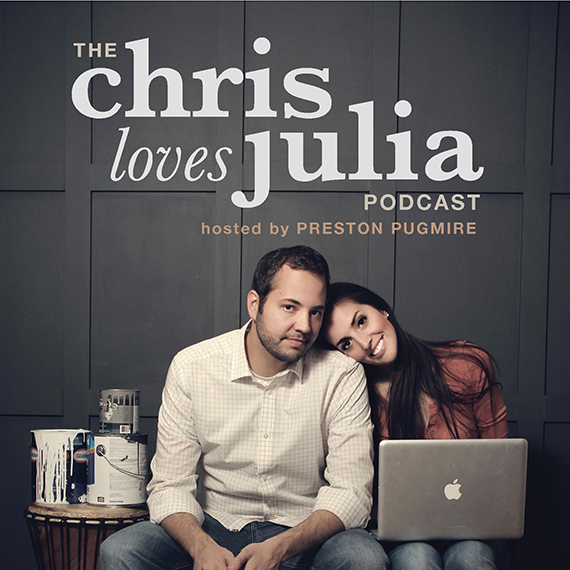 Similar to Young House Love, Chris Loves Julia began as a blog covering Chris + Julia Marcum's home renovation. The blog quickly grew and covered broader topics, such as design inspiration, lifestyle topics, technology and more. The podcast is hosted by a good friend of the couple and fellow DIYer, Preston Pugmire, and offers behind the scenes stories chronicling Chris and Julia's successful (and failed) projects, answering reader emails and interior design/DIY tips.
Episode length: 30 minutes
Release: Typically Every Monday, sometimes every other Monday
"Style Matters" is yet again the offspring of an interior design blog, Little Yellow Couch, started by friends Zandra Zuraw and Karen June Grant. Little Yellow Couch was started in 2013 as a way to answer the question "why style matters," and from this question, and the natural, engaging conversation that followed, the podcast was born. This podcast interviews top designers and stylists, asking about how they view their homes in relation to their overall well-being and happiness and deep diving into their design choices and recommendations.
Episode length: 30–45 minutes
Release: Every Monday
Painter-turned-Podcaster Nick May may have taken the "unconventional route" to starting his podcast, "The Chaise Lounge," in 2014 (aka, the blog came after the podcast) but we are so glad he did. This podcast is also interview focused, but instead of honing in on designer's individual homes, it takes a more business-like approach. Nick sits down with designers and uncovers the how, why and what: how they got into interior design, why they started their own firm and what makes them so successful — with other fun and unexpected questions are peppered throughout. 
Episode length: 45 minutes–1.5 hours, depending on the topic
Release: Two/Three times a week
Interior designer and blogger Amanda Gates' of Gates Interior Design looks at design through a dual lens: not just creating a space that looks good, but a space that feels good. With more than 20 years of Feng Shui under her belt, Amanda believes that "if you get the energy right, everything else will follow." If you are wanting to learn more about concepts like energy alignment, holistic living and sustainability — this podcast is perfect for you. 
Episode length: 20 minutes–2 hours, depending on the topic
Release: No cadence