Whether you are you planning for a full renovation or just flipping the guest bathroom, upgrading to luxury amenities can be an indulgence well worth it. Not only will they add more comfort and gratification to your home, but you will see the benefit if a time comes when you are ready to sell.
When beginning your renovation, consider what high-end finishes you want to incorporate into your design. These finishes can range anywhere from upgrading from granite to marble countertops or choosing custom over ready-made cabinets, to installing hardwood over laminate floors. A quick list of opportunities for upgrading include choice of building materials, use of materials (think fully tiled bathrooms or floor-to-ceiling stone fireplace), fixtures (including lighting and appliances), interior trim, electric systems (ranging from smart thermostats to central vacuums) … the list goes on!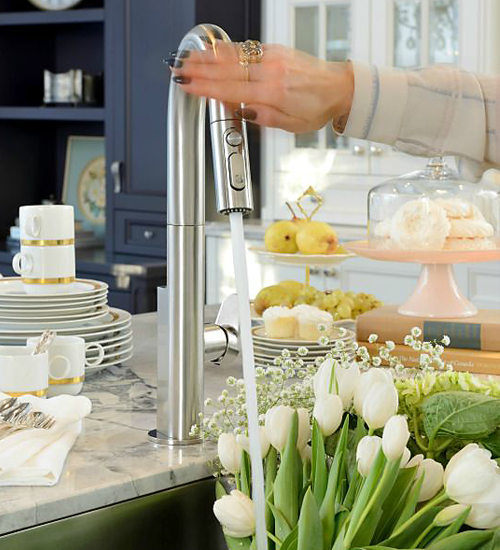 Each of these choices will add value to home, but determine what is most important to you. For example, if it's charm you're looking to create, focus on adding crown molding throughout your home accented with classic chandeliers.
An easy way to upgrade your home is with touchless plumbing fixtures. While once reserved for public restrooms, residential touchless plumbing is becoming more and more common. While this may seem like an extraneous addition, after installing a touchless faucet in your kitchen … you may wonder how you ever functioned without it.
If your focus is to create a luxurious experience in just one space, the bathroom is a great place to start. Aside from bringing the touchless faucet into this room, too, heated floors are a great way to add that extra a bit of extravagance. Steam showers, body jets and towel-warming drawers complete the ambiance, creating a true at-home spa.
If you've made upgrades in other areas of your home and have extra space to work with — consider designing a dedicated entertainment space. Based on your interests, this can be a theater room, sports room (bowling, anyone?) or even a wine cellar with a tasting room.