Written by: Ashley McGoff
With Memorial Day behind us, that means only one thing: summer has officially started. With more time being spent hosting barbecues and pool parties, it is important your backyard looks its best. Here are some tips on how to liven up your backyard so you can have the outdoor destination of your dreams.
Bring the Indoors Out
Look at the style of your interior décor to draw inspiration for your backyard. Is the rest of your home modern and contemporary? Try picking out patio furniture with clean, angular lines. How about traditional? Consider a spacious wooden dining table set atop a plush rug to create a welcoming atmosphere. Make your backyard an extension of your home by continuing your interior décor outside.
June/July 2013 | Designer: Garison Salinas, Garrison LTD.
Tailor to Your Interests
Customize your backyard to your interests to maximize enjoyment. If your summer diet consists of everything grilled, adding a built-in grill will create a stunning focal point to your backyard. A beautiful stainless-steel grill surrounded by rustic stone will excite any grilling enthusiast.
June/July 2017 | Designer: Chesterfield Valley Nursery
If you are a movie buff, add an outdoor TV to your patio and enjoy watching under the stars. Create a luxurious space by adding a cozy couch and tons of throw pillows so you can settle in and watch your favorite movie in comfort.
Add Accents Throughout
Increase visual excitement by adding decorative accents throughout your backyard. A water feature such as a fountain or pond can turn your backyard into an oasis. The sound of water trickling down stones will add serenity to those peaceful summer nights.
June/July 2019 | Owners: Chick + Bruce Buehrig 
Another design accent to consider is a fire pit. Including a fire pit will add ambiance to those cool summer nights. There are plenty of options to suit any style such as gas, wood, or electric burning fire pits. Making a fire pit part of your backyard landscape will create a cozy and relaxing feel.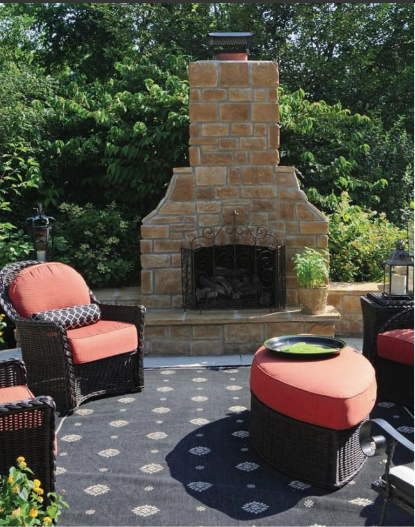 June/July 2013 | Owner: Diane Breckenridge-Barrett