The holidays are the best time to gather around the table and focus on family, friends and food. Whether you're hosting for Thanksgiving, Hanukkah, Christmas or any holiday between, we understand setting the table does more than set the tone. It's both a celebration of the season and a celebration of your style.
If you're having difficulty knowing where to begin (we're with you!) — follow these six steps, and you'll be on your way to a perfect tablescape in no time.
Consider Functionality
The first step to building your holiday tablescape is understanding how your table will be used. If you are hosting a large family-style meal, opt for a minimalistic look to allow room for passing plates and additional dishes. Setting the table just for appearances? You will have more room for your design – but we still recommend leaving elbowroom … just in case you have an unexpected guest (or 2, or 3).
 
Select Your Theme
Our advice? Go with a theme that complements your existing décor. Whether it's a color theme (warm tones to winter white) or a design theme (rustic to modern, whimsical to elegant), a thoughtful theme that highlights your space's current design will make the room feel more cohesive.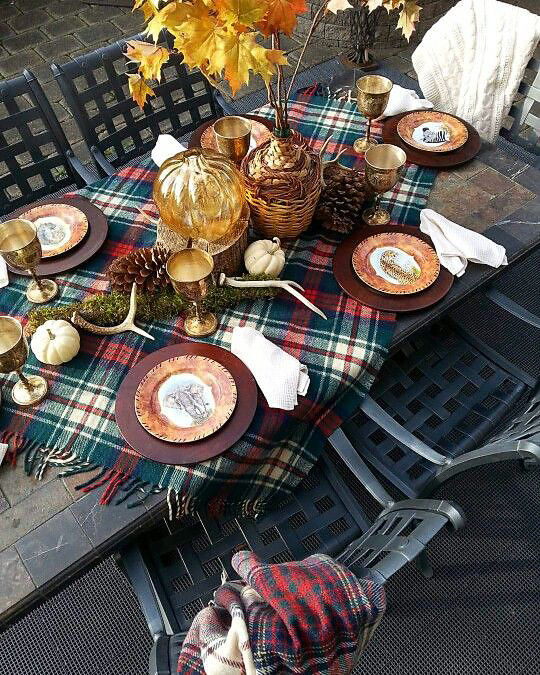 Build Layer by Layer
Building a tablescape should be done in layers, beginning with your linens. Options for your base include tablecloths and table runners. Use one for a streamlined look, or both for a more textured tablescape. You can also think outside the box, especially if you are seating outside! Blankets and scarves are both great alternatives. Purpose and durability are also important elements to consider. Will you be upset if a guest spills gravy on your Great Aunt's lace tablecloth? Consider for-going for now, and select something that may better serve its purpose.
 
Pick Your Props
This is where the theme takes its stage. From one beautifully curated centerpiece to a myriad of merry motifs, there are infinite possibilities for your design. For warmth, add candles and jewel-toned decor, like ornaments or vases. Keep it fresh with greenery, pinecones or birch branches. Mercury glass and metallic objects add a level of sophistication to your scheme. Use garland for a statement, thread in twinkle lights for a dazzling effect. Low-key hints of red and green in any theme will give a Christmas tablescape an added sense of nostalgia. The list goes on … just remember to leave space between and above your design for easy conversation.
 
Set Your Table
This includes dinnerware, flatware and drinkware. Chargers, placemats and napkins should also be considered. Tradition tells us the napkin should be folded to the right, with the flatware perfectly in its place. But just like all great design schemes, some rules are meant to be broken. Consider using your napkin folded vertically in between the charger and your plate for an additional layer, or pulled through a napkin ring on top of the plate as the setting's finishing touch.
 
Complete the Look
If you're having assigned seating, use place cards as a way to make the setting more intimate. Printed, personalized menus can be used as an additional way to carry out your theme. Lastly, up the festive factor by adding a sprig of holly or a bit of boxwood tied with ribbon to each setting.